Cargo Agency
Curacao container terminal
The Curaçao Port Services (CPS) operates the Willemstad Container Terminal and other cargo facilities in the Port of Willemstad based on a concession agreement with Curaçao Ports Authority N.V.
Stevedoring
The port of Willemstad offers multi-purpose cargo handling services. The Curaçao Port Services (CPS) processes approximately 100.000 TEU per year. The facility has two Gantry Cranes, and approximately 1,000 meters total berth length. The maximum berth length is 460 meters and the maximum depth is 12.2 meters. The terminal offers 24-hour service and has facilities for Ro/Ro and Lo/Lo operations. One Ro/Ro berth is situated adjacent to the gantry crane rail enabling it to offer simultaneous Ro/Ro and Lo/Lo operation.
The maximum berth length at the container terminal is 460 meters and the maximum depth is 12.2 meters.
Non-containerized Cargo:
The Multi-Use Terminal (commonly called the Brion Wharf) is utilized for the discharge and load activities of general or neo bulk cargo. Vessels carrying neo bulk, lumber, steel, cars and cement are discharged at the Multi-Use Terminal. Bulk vessels carrying grains are also discharged and loaded at this terminal. The general cargo berth's total length is approximately 2,900 ft (879m) with drafts varying from 32-36 ft (9.7 – 10.9m). The terminal, a completely fenced-in area of 30,000 M² adjacent to the container terminal, is guarded and patrolled by our own armed security officers.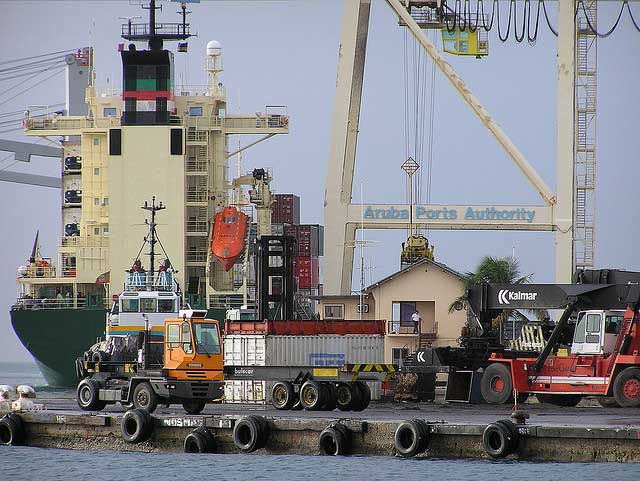 Aruba stevedoring company
Cargo terminal
The Cargo Terminal has a total area of 1.4 million sq. feet; 7500+ TEU's storage capacity and 36 Reefer points.
The Port has one Ship-shore container gantry crane: Nelcon 50t, that can move 20-25 boxes per hour. CFS in Port total area over 53,800 sq. feet.
Operation: 24/7/365
Container Berths: 1 Container berth, length 250m, Max. draft 9.75m, 50 Ton Gantry Crane
Total Container Terminal Area: 130,000m²; storage 7,500TEU; 36 electric reefer points.
*ISPS & MTSA compliant Bunkering & Fresh water available
Ports of the world served by Maduro Shipping