Aruba Ports
Barcader
In 2013 Aruba Ports Authority N.V. announced that they were ready to begin Aruba's US $62 million dollar project to Design, Build, Finance, Maintain, Operate, and Transfer the Multi-Cargo Sea Terminal at Barcadera.
The contract was awarded to the local stevedoring company Aruba Stevedoring Company (ASTEC) NV. The project will be implemented as a Public Private Partnership (PPP) under the Landlord Model. The concessionaire will be responsible for the investments in terminal infrastructure, labor, and operational activities.
The port's vision is to realize a project with guaranteed sustainability. This project is thus of vital importance for diversification of Aruba's economy and its future growth.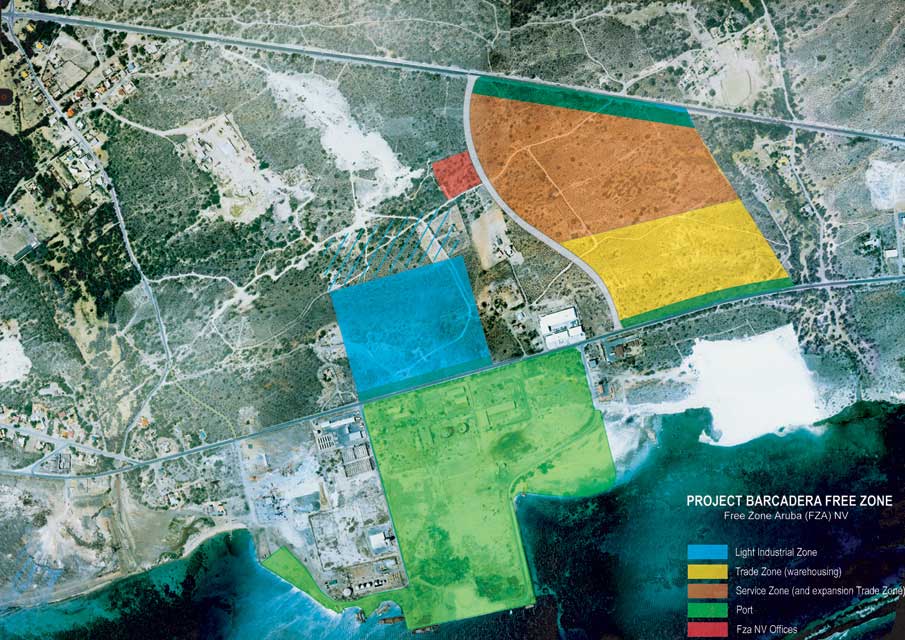 Port information
Port operator: Aruba Ports Authority N.V.
Pilot boarding grounds: Latitude 12° 28.5′ N; longitude 70° 01′ W
Range lights: 093° (from sea)
Tidal Range and Flow: 0.4m
Time Zone: GMT -4
Navigation Charts: BA Charts 702 & 1412
Contact: Aruba Ports Authority VHF CHNL 16 and/or 11
Emergency numbers: 5821740 coast station / 911
Width of harbor entrance:143.3 Mtrs
Width of harbor: 300 Mtrs
Depth: 10.97
Turning Basin: 300 Mtrs
Fresh Water: Available, connections are required
Oranjestad
The port of Oranjestad, currently the main commercial harbor of Aruba, is situated on the south-western end of the island. The port is open for day and night navigation, allowing vessels to enter and leave at any hour. It is located along the waters edge of the capital, Oranjestad, which makes a colorful sight upon entering of the harbor. The ships moor within walking distance from the shopping centers, a 10 minute drive from the beaches, and a little over 2 miles from the international airport. The port of Oranjestad also serves all containerized cargo handling operations until its scheduled move to Barcadera in mid 2015. This adjacent cargo facility is equiped with a 50 ton gantry crane with a loading rate of 20-30 moves per hour and 250 meters of quay length. This facility is used primarily for processing the imports for local consumption and the remaining represents Free-Zone type and transshipment cargo.
Harbor Map and Navigational Chart
The harbor has a depth of 33 feet at MLW. The safe salt water draft approved for entering and leaving is 30 feet 00 inches. Vessels normally enter via the Western Channel and depart via the Eastern Channel. In total, there are 4070 feet of dock length available to accommodate ocean going vessels. The Port of Oranjestad has five cruise berths: Two berths with two Cruise Terminals measure 1910 feet in length and the other two berths sharing one Cruise Terminal are 1443 feet in length. One additional Cruise berth has 557 feet of length. Water depth ranges from 32 to 36 feet. On weekends the container berth is used as a third mega cruise berth.
Cruise Berths: 2 permanent Mega berths with Cruise Terminal each, 2 medium size berths sharing Container quay is used when a 3rd mega cruise berth is needed.
Total Berthing space: 1241m+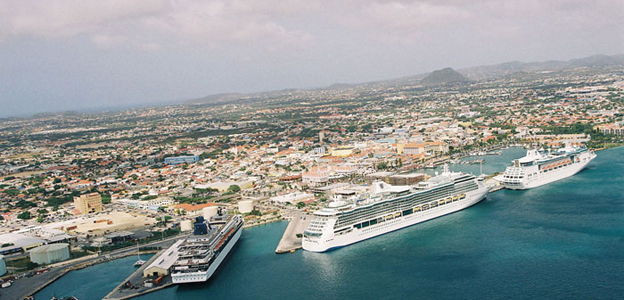 Port information
Port operator: Aruba Ports Authority N.V.
Pilot boarding grounds: NW Entrance: Latitude 12° 31′ N; Longitude 70° 04′ W
Pilot boarding grounds: NW Entrance: SE Entrance: Latitude 12° 30.3′ N; Longitude70° 03′ W
Sea Level: 1.37m above sea level
Tidal Range and Flow: 0.4m
Time Zone: GMT -4
Navigation Charts: BA Charts 702 & 1412
Contact: Aruba Ports Authority VHF CHNL 16 and/or 11
Emergency numbers: 5821740 coast station / 911
Fresh Water: 2½" American Standard Connections, 90 Mtrs. Length, Available 3 hoses of 30cm each